Printer Toner & Office Accessories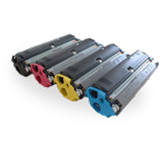 For laser toner cartridge replacements in top brands, OES provides a one-stop solution. We carry the best in Brother toner cartridges, Samsung toner cartridges, HP toner cartridges, as well as off-brand options that provide great results at a low price. And when you buy any of our options in high-yield sizes, you get a great way to access reliable toner cartridges without sacrificing on the quality or service you've come to expect from your office equipment store.
Toner Options
Toner cartridges typically come in black options as well as cyan, magenta, and yellow for use in color laser printers and copiers. Depending on the make and model of your office equipment, you may be able to purchase and install each color individually, which can extend the life of each toner cartridge. Our options also include high-yield replacement toner cartridges, which provide considerably more print coverage for a lower overall cost.
What to Look for in Your Toner Cartridge Suppliers
Toner cartridges can be purchased in just about any office supply store, either online or at the physical location. However, markups on ink cartridges and toner tends to be fairly high, especially if you visit a chain store. Here at OES, we provide cheap toner cartridge options in all the same brands you can find elsewhere. When combined with our great prices on office equipment as well as our printer service and repairs, the result is a store you can turn to for all your home office and business needs.
919 W Hawthorne Ln.
West Chicago, IL 60185

Parts & Supplies
Like any major purchase for your home or office, printers and copiers are an investment worth maintaining. Regular printer repair and upgrades are an essential part of keeping your office equipment running smoothly, as well as a great way to protect your investment. Whether you install laser printer parts as a way to upgrade memory or printer capacity, or if you replace the hard drive for advanced security options, it's easy to keep your business running smoothly when you have a place to turn for printer supplies.
Printer Parts & Options
Most top-of-the-line printers have built-in capabilities for upgrades. That's because companies like HP, Brother, Sharp, and Samsung put a lot of work into their base printers and copiers, knowing that you will most likely keep your office equipment for years. Options for advanced printer parts include additional memory, larger hard drives, additional paper trays, duplex printing options, wireless connectivity, and regular software updates that match the latest operating systems. Installing these printer parts can be done on your own, or you can call in a printer service specialist to get the job done for you.
Protect Your Investment with Printer Replacement Parts
Although your printer, copier, fax machine, or other piece office equipment is most likely built with durability in mind, extensive use can have an impact on the quality and quantity of your prints. One option is regular printer maintenance, which can help keep things running smoothly much like a regular oil change in your car might. Other options include buying and installing HP printer replacement parts or any other brands that you might need.
Let OES Be Your Printer Parts Store
You can rely on OES for all your printer repair and product needs. That's because in addition to our complete lineup of printer supplies and parts, OES offers a range of on-site and in-shop support services in Chicago and the outlying areas. You can count on us to ship you the printer parts you need no matter where you work and play, or we can come right to your Chicago office to maintain, repair, and install printer parts on the office equipment you use every day.