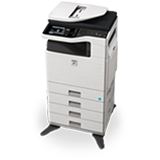 If you have a home office or business space that relies on communication to get the job done, a copier fax and printer is a must-have. Combining the features of a copier, a fax machine, and a multifunction printer, you get the functionality of an all-in-one office machine without sacrificing any of the quality you've come to expect from top name brands like Sharp, Samsung, Brother, and other copier brands of that class. After all, when it comes to your business, it's important to have a machine you can count on each and every day.
Copier Capabilities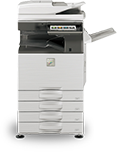 Today's top office equipment copiers provide a range of services, which include automatic resizing and high-resolution scanning as well as duplex copies and WiFi connectivity. Depending on the size of your office and the paper capacity you need, you can opt for top-of-the-range Sharp copiers with large auto-document feeder capacities, or a more compact small business copier that fits into virtually any workspace. Many copier machines also include scan-to-file features and large storage capacities for copying large or detailed projects.
Copier Toner & Copier Repair
Like any good piece of office equipment, copiers are built to last for years. In order to manufacture the best copiers while still remaining on the cutting edge of technology, top machines like Sharp copiers and Samsung copiers will allow for easy upgrades and repairs. This means you can order copier supplies like additional memory, digital copier toner, and even regular copier repair services that will keep your machine in great working order. Whether you buy a top-of-the-line copier today or find a base machine that can upgrade and grow along with your business, all the options you need are right here.
Great Copiers at Great Copier Prices
One of the best things about the copier, fax and other options you can buy here at Office Equipment Specialists is that there is always an option for your price range. We supply small business copiers with basic black and white options as well as multifunction copiers that can double as a way for your entire office to create full-color documents and presentations. At the same time, our commercial copiers can handle large volumes and heavy processing for just pennies a copy. Browse our listings to discover what OES can do for you.
919 W Hawthorne Ln.
West Chicago, IL 60185