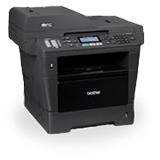 Multifunction printers provide a printing solution that can accomplish several tasks in the amount of time and space required for just a single office machine. As all-in-one printers, our multifunction printers for sale provide copy, print, scan, and fax capabilities in both full, vibrant color and crisp black and white. These machines are ideal for use in busy workgroups, home offices, and companies that need a streamlined way to accomplish administrative tasks every day.
Recommended Multifunction Printers
Although there are dozens of quality machines and brands, the best multifunction printers reviews put brands like Brother, Sharp, Hewlett Packard, and Samsung at the top of the list. That's because when you combine a known name with advanced features like high speeds, large processors, and wifi multifunction printers that can connect the whole office, you get great results and the great backing of a brand you trust. Many of these multifunction printer options are featured for discounted prices here at OES, and we also have a large supply of refurbished multifunction printers in the names you've come to know and trust.
Which Office Multifunction Printers are Right for Me?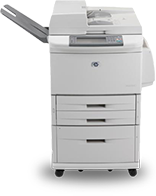 If you're in the market for one of the best rated multifunction printers for use in a large office or commercial setting, you'll need to define your requirements and priorities. Are you looking for document and workflow management? A way to reduce paper waste? How many users will need access to the device, and how important is security? For small business multifunction printers, the focus might be less on quantity and more on quality. For example, a graphic design firm needs the crisp, clear results of a high-resolution machine. For others, the quality output of the laser color multifunction printer might be secondary to finding a low-cost choice with affordable printer toner and supplies.
Get the Multifunction Printer Support You Need
Your ability to create flawless documents is only as dependable as the machine you work on. That's why we encourage you to turn to the best rated multifunction printers and the OES solution for your next office equipment purchase. From black and white laser multifunction printers to color laser multifunction printers in all the best brands, we stand by every one of our machines and the services we provide in keeping your printer maintained, well-supplied, and backed by a support network for all your multifunction printer troubleshooting needs.
919 W Hawthorne Ln.
West Chicago, IL 60185